「Tokyo Weekender 2021年7月号」の別冊特集に掲載されました!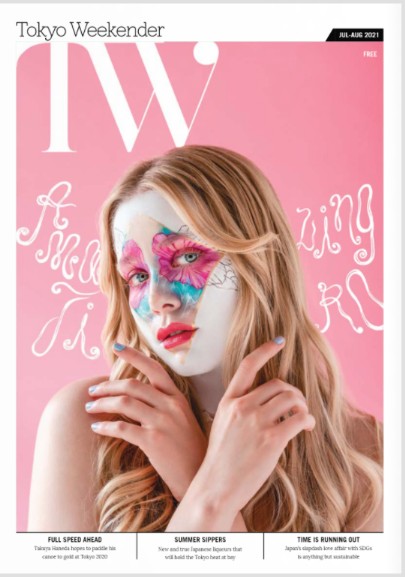 Ryu SpaのOMOTENASHI Selection受賞商品が「Tokyo Weekender 2021年7月号」の別冊特集に掲載されました!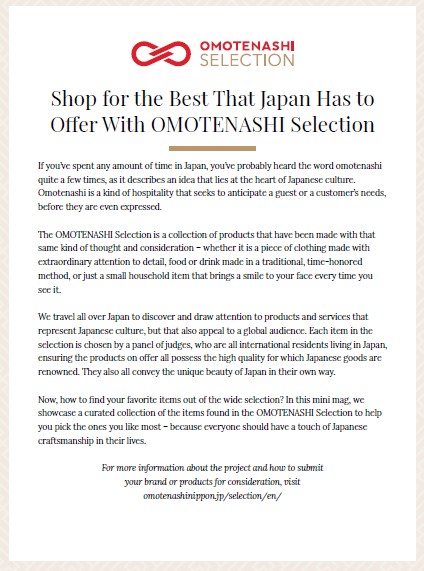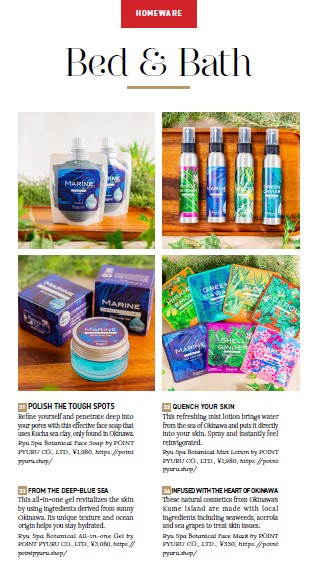 ※「OMOTENASHI Selection」受賞についてはこちらから情報をご覧いただけます。
Ryu Spa Skin-care Products were published in the Japan's No.1 English Magazine『Tokyo Weekender(July 2021)』.
"Shop for the Best That Japan Has to Offer With OMOTENASHI Selection"
■POLISH THE TOUGH SPOTS
Refine yourself and penetrate deep into your pores with this effective face soap that uses Kucha sea clay, only found in Okinawa.
Ryu Spa Botanical Face Soap by POINT PYURU CO., LTD., ¥1,980
■QUENCH YOUR SKIN
This refreshing mist lotion brings water from the sea of Okinawa and puts it directly into your skin. Spray and instantly feel reinvigorated.
Ryu Spa Botanical Mist Lotion by POINT PYURU CO., LTD., ¥1,980.
■FROM THE DEEP-BLUE SEA
This all-in-one gel revitalizes the skin by using ingredients derived from sunny Okinawa. Its unique texture and ocean origin helps you stay hydrated.
Ryu Spa Botanical All-in-one Gel by POINT PYURU CO., LTD., ¥3,080
■INFUSED WITH THE HEART OF OKINAWA
These natural cosmetics from Okinawa's Kume Island are made with local ingredients including seaweeds, acerola and sea grapes to treat skin issues.
Ryu Spa Botanical Face Mask by POINT PYURU CO., LTD., ¥330
"If you've spent any amount of time in Japan, you've probably heard the word omotenashi quite a few times, as it describes an idea that lies at the heart of Japanese culture. Omotenashi is a kind of hospitality that seeks to anticipate a guest or a customer's needs, before they are even expressed.
The OMOTENASHI Selection is a collection of products that have been made with that same kind of thought and consideration – whether it is a piece of clothing made with extraordinary attention to detail, food or drink made in a traditional, time-honored method, or just a small household item that brings a smile to your face every time you see it.
We travel all over Japan to discover and draw attention to products and services that represent Japanese culture, but that also appeal to a global audience. Each item in the selection is chosen by a panel of judges, who are all international residents living in Japan, ensuring the products on offer all possess the high quality for which Japanese goods are renowned. They also all convey the unique beauty of Japan in their own way.
Now, how to find your favorite items out of the wide selection? In this mini mag, we showcase a curated collection of the items found in the OMOTENASHI Selection to help you pick the ones you like most – because everyone should have a touch of Japanese craftsmanship in their lives."
Thank you so much!!!